Having a clear target: Building a Bow and Coaching
Having a clear target: Building a Bow and Coaching
Start: Fr, 26.08.2011,  10:00
End: So, 28.08.2011,  16:00
Destination: Osterberg Institut, Am Hang, 24306 Niederkleveez, Germany
Description:
A very special workshop: We combine the traditional craftmanship of building a bow with the ability of communication by Coaching.
Content:
Together with the coach you will define yourself your essential topic. Yourself will express your target and find out how to reach this goal. In between you will build your own bow. Within reposeful atmosphere you will experience the archaic fascination, to bring-up a bow out of a wooden slat.
The combination of physical work on the bow on the one hand and mental work on the own targets on the other hand has been guided by numerous metaphors out of the archery:
•  to concentrate on essentials,
•  to bring it to a nutshell,
•  to decide dead on target,
•  to stretch and relax,
•  to release.
Our motto "The journey is the reward" shows how you can aim your goals with mental and physical power and concision:
•  to build an own bow and learn how to handle it,
•  to express individual goals and define ways towards them,
•  to develop mental power but also serenity.
Surrounded by a wonderful scenery, at the end we will have a small championship competition. After that we will enjoy the evening at the campfire, relaxing and exchange out thoughts and experiences, also playing some music ourselves.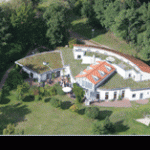 Organisation by: Osterberg Institut
Our contact: Martin Reichenbach
(Associate Vineyard Management Consulting GmbH)