Publication "Lead yourself"
Our Associate Martin Reichenbach has published the book "Lead yourself: reflection for self-fulfilment":
The book is written for people who are interested in growth and change and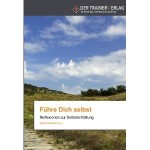 within do not yield to temptation making others or external circumstances responsible for them. Those who want to spot themselves, define targets clearer and take matters into one own's hands can obtain a very good toolset by this book. Martin invites to an interesting journey to yourself by describing 52 reflecting considerations with corresponding questions. Even the longest journey starts with the first step.
Author:
Martin Reichenbach (Associate Vineyard Management Consulting GmbH).