Publication "Process Management"
Vineyard Management Consulting GmbH has publicated the book "Process Management: Modern process design as best practise":
Antoher book with regard to process management?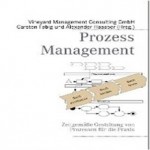 Does every consultancy have an own methodology or research department in the meanwhile? That is by no means the case. The idea of this book evolved within a not really serious conversation betwenn our consultants about the project experiences of the recent years. At the end of the discussion, our colleague put it in a nutshell: "I really do wonder – after all that insights into process mamagement – how the fresh milk I drink gets naturally into the supermarket's fridge shelf each day".
The book (German language) illustrates the different aspects of process management as well as modern processes in the context of change and innovation. The articles are based upon practical experience about implementing new processes and structures to organizations.
Editor:
Vineyard Management Consulting GmbH, Carsten Fabig and Alexander Haasper.
Authors:
Alexander Haasper (Vineyard Management Consulting GmbH), Carsten Dreyer (IT-Control AG), Carsten Fabig (Vineyard Management Consulting GmbH), Evangelos Kopanakis (Best-Practice Innovations GmbH), Alessandro Guerrini (Vineyard Management Consulting GmbH), Rudi Pöppl (PMPS and Approval Experts GmbH).
Can be purchased e.g. via Amazon Bookstore or Apple iBookstore.