Expansion of our Network Partner Portfolio
In the last months we have established new visions of working together with network partners in the fields of our consulting portfolio. Whilst we are working together already since 2007 with BECN AG on the change and trasnition projects of our clients and since 2011with Anyhwere.24 GmbH,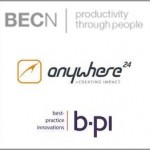 a specialist for concerted process enhancements on the basis of experienced valuation methos like SCAMPISM class A/B/C for CMMI® or SPICE® (ISO15504/12207/ AutomotiveSpice), we are now pleased that our network partner portfolio has now been extended with best-practice innovations GmbH (b-pi), a training and consulting company, which enrichs our services with regard to IT service management, project management and IT governance compentencies (especially in the context of standards like ITIL®, PRINCE2® and COBIT®).
We are looking foreward to jointly interesting project challanges and a successful collaboration. More information about our network partners can be found here.