College lectorate and project studies at FH Fresenius
Vineyard Management Consulting at FH Fresenius (Idstein)
Since this year's winter semester (2015/16) Vineyard Management Consulting GmbH performs at FH Fresenius: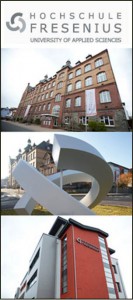 On the one Hand our Associates
Carsten Wittmann
and
Dr. Lars Niemann
are acting as college lectorers with the reading about "Value Added Management - Quality, Change and Innovation Management". Content of those lectures is among others Definition, functions  and tools of quality, change and innovation management as well as implementation approaches and case studies within holdings.
On the other Hand Carsten Fabig and Alexander Haasper govern a project study of students of the 5th Semester with regard to "types and benefits of Key Performance Indicator (KPI) systems  for governance processes". Whilst governance processes, especially within the finance sector, getting more and more essential, the targeted and value added implementation of internal control systems and efficient performance management Shows existential challenges for several companies. The project study of the students will analyze existent frameworks (e.g. COBIT 5.0) and will compare advantages and disadvantages of their KPI systems.