Complexity
Our approach of managing complexity is to reduce complexity of structures, IT systems and processes to a minimum.
By ongoing taylorism of value-added chains and the market trend to customize services the need increases to cope with the crosslinking density and the correlated complexity of organizational structures.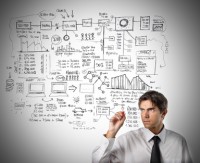 Independenet of the degree of the individual complexity which an organiaztion needs to perform, complexity can be calibrated e.g. for projects in a way that operational dynamic is well-balanced with their structures, overhead, costs and requested deliverables.
Our consultants include this strategical knowledge as well as their methods and project experiences into our support to face the challenges of our clients.
Focus of complexity management thereby is the delivery of solutions for e.g. organizational design and optimization of processes on the basis of best practices like CMMI, PMI and ITIL.