Transition
In our projects transition management consists of strategy definition, implementation planning and the establishment of changes within the companies: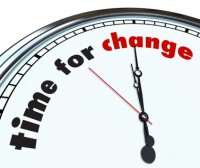 Change processes are complex challenges. They often include factual, emotionale, psychological and system immanent components. As these impact different levels of individuals, highly-networked realtionships or entire organizations, the transition process and its interdependencies have to be coordinatedand governed properly.
The 8 step approach of Vineyard Management Consulting GmbH utilizes a multi-staged procedure for the successful constitution of transition processes. Thereby we put high emphasis on the close look on emotional and rational degrees of acceptance within each phase of the change process.
Phase 1 – Planning: At the begin some analysis take place to determine what changes are needed, why they have to be implemented and what effects they should have.
Phase 2 – Publication: In this phase the change need will be published, which usually creates emotional shocks and surprises for some target groups of the change.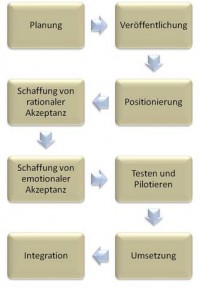 Phase 3 – Positioning: Here target groups normally (re)position themselves. The critical success factor for this is that the change need gets illustrated to all target group and their specific arguments. In addition, a common sense – although there are different interests among the different groups – has to be established with regard to targets, opportunities, risks and general requirements of the upcoming initiative and its corresponding transition process.
Phase 4 – Creation of rational acceptance: Within this important step thrust gets carried off, especially at those target groups (and key players for the successful change) which are crucial for the transition process and its acting change managers.
Phase 5 – Creation of emotional acceptance: In this phase the (real) emotional acceptance has to be ensured by discuss all fears, risks and sorrows of persons concerned as well as those who are involved.
Phase 6 – Test and piloting: Next steps are to activate resources, start projects, test and pilot adjustments and check possible change options – the change comes through now!
Phase 7 – Implementation: Only now (!) ideally the different parts of the change programme should be implemented, e.g. with distinct priorities, clear responsibilities and roles as well as consequent behaviors.
Phase 8 – Integration: Finally the integration with its transferred structures, processes, IT systems, behaviors or strategies takes place and leads to the ex-post transition phase. Some highlights of this sequence are the conversion into new routines, the stabilization introduced by new learning experiences as well as an ongoing monitoring of the key parameters  – and, last but not least the the reward of success acknowledge for achievments during the previous phases.
If there are so many models, why are there still so many failures?
In general the keys to our projects have been that our clients and their key players do not have the experience nor the skills to cope with transformation processes. Some reasons for potential disappointment are:
Too high self-confidence
Not enough support
Unclear targets
Lacking communication and intransparency
Too less short-term success
Missing integration of the change into the mindsets of the people and their institutions
Too long processes and decision making
We are happy to support you in circumnavigating your threats and to manage to design your changes to beacome a successful initiative – we're looking forward to get in touch with you!